Posted on
•
•
•
Read time: 2 minutes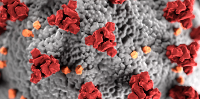 Due to the Coronavirus outbreak there are lots of voices saying that we shouldn't care so much - especially if we haven't vaccinated for the flu which shows a lack of diligence on our side.
That could not be more wrong! People who say that understand ZERO about risk management, and since my social bubble is mostly security and risk management people, I find that very alarming.
Let me explain: